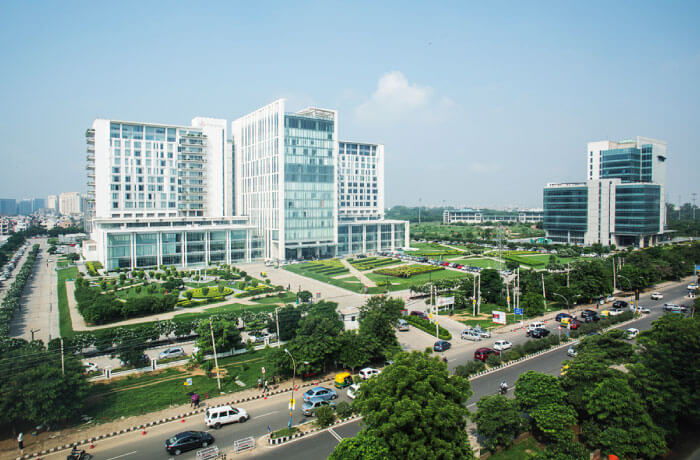 SUPER SPECIALITY
Medanta The Medicity Sector 38, Gurgaon, Haryana, 122001
Medanta - The Medicity is one of India's largest and most prestigious multi-super speciality medical institutes in India. Spread across 43 acres in Gurgaon NCR and houses 1,250 beds and over 350 critical care beds, with 45 operation theatres, the hospital was founded in 2009 by renowned cardiovascular and cardiothoracic surgeon, Dr. Naresh Trehan and is located in Gurgaon, which is part of the Indian Capital Region. Primarily known as an institute specializing in cardiology, presently Medanta has 32 institutions, departments and division that cater to over 20 specialities.
Waiting Period


Within a week

Price Range


Economical

Facilities


Executive
BOOK AN APPOINTMENT
You will recieve:
Response Within 5 Hours
Doctor Recommendations
Treatment Plan & Cost
Medical Visa Help
Quick Appointment
About Medanta The Medicity
Medanta – the medicity is one of india's largest multi-super specialty institutes located in a few cities such as gurgaon, a bustling town in the national capital region. Founded by eminent cardiac surgeon, Dr. Naresh trehan, this institution had been envisioned with the aim of bringing to india the highest standards of medical care as well as clinical research, education and training. Medanta is governed under the guiding principles of providing medical services to patients with utmost care, compassion, commitment.Spread across 43 acres, the gurgaon institute includes a research center, medical and nursing school. It provides 1250 beds and over 350 critical care beds with 45 operation theatres catering to over 20 specialties. Medanta houses six centers of excellence which provides medical intelligentsia, cutting-edge technology and state-of-the-art infrastructure alongwith a well-integrated and comprehensive information system.Medanta – the medicity brings together an outstanding pool of doctors, scientists and clinical researchers to foster collaborative, multidisciplinary investigation, inspiring new ideas and discoveries; and translating scientific advances much more swiftly into new ways of diagnosing and treating patients and preventing diseases. A one-of-its-kind facility across the world, medanta through its research integrates modern and traditional forms of medicine so as to provide accessible and affordable healthcare.
Medanta Hospital Infrastructure
Medanta's massive 2.1 million sq. ft. campus provides 1,600+ beds and houses facilities for over 22+ super-specialties, all under single roof. Each floor has been dedicated to a specialisation so as to ensure that they function as independent hospitals within a hospital and yet have the comfort of collaborating on complex cases. Patient is provided with multiple options for treatment, most suitable of which are arrived at through a cross-function, cross-specialisation committee like Tumor board which decides the best course of action. Medanta constantly tries to provide patients with the latest and most advanced treatment options using the latest technology to achieve greater accuracy and reduced recovery time. Some of the machines they own are owned by very few hospitals in the world. Their annual Preventive Health Checks are customised to take into consideration your lifestyle and risk factors.Our health checks include comprehensive diagnostics, consultations with accomplished doctors and technology-aided follow-ups with the aim to ensure that people stay in the pink of health at all times. At Medanta, you will instantly discover that you are much more than just a patient.Starting from the way they have designed their patient rooms to the way they serve you, they have left no stone unturned, ensuring that both, your medical and personal needs are being placed above everything else.
Why choose Medanta Hospital ?
Medanta is a home to some of the most eminent and renowned doctors in the world, most of whom are pioneers in their respective arenas and are renowned for developing innovative and revolutionary procedures. Many of our doctors are respected with 'Padma Shri' , 'Padma Bhushan' awards, 'Dr B.C. Roy National Award' and 'Marquis Who's Who in the World' recipients.
The only best hospital for heart care: MEDANTA HEART INSTITUTE houses the sub-specialities of Cardiac Surgery, Electrophysiology and Pacing, Clinical and Preventive Cardiology and Interventional Cardiology, where an integrated team of cardiac surgeons and cardiologists works in tandem. Backed up with the latest technology including alongwith a unique hybrid operating suite, the dedicated team of Cardiac Surgery doctors has performed a staggering 50,000+ C.A.B.G surgeries. The team is expert in off-pump CABG, robotic heart surgery, minimally invasive valve and coronary heart bypass techniques.
10% OFF - All Treatments at Medanta Medicity Hospital, Book Now!!
Best treatments in Medanta The Medicity
Doctors in Medanta The Medicity
Photos of Medanta The Medicity
Reviews
67 Ratings and 53 Reviews
Customers who visited via getwellgo.com
Salesh Raman
Visited in December 2018
From Fiji
I wanted to have a second opinion before I made a final decision for my weightloss surgery. There were a lot of confusion regarding the surgery and the complications that may arise. Getwellgo medical team had an expert on board who helped me understand thoroughly about the treatments types available and pointed me in just the right direction.
---
Roonie Kaphiksha
Visited in November 2016
From Zambia
I contacted GetWellGo for my spine condition. I had no prior complete idea of my ailment and didn't know how to proceed further. GetWellGo's medical team helped me to decide the right treatment and also guided me to the right hospital. They also helped me get the appointments with the best doctors for my surgery.
---
Murid H Ahmed
Visited in January 2018
From Afganistan
When I decided I'm getting my cardiac surgery done, I wanted to know the cost estimates and most economical treatment available. Getwellgo's cardiologist answered all my questions patiently and helped me decide the hospital as well as post surgery followups. I am very happy that getwellgo was there for me.
---
Donald Gyamfi
Visited in July 2018
From Ghana
While doing online research, I came across Getwellgo. Going through the reviews online, I immediately contacted them and go complete information regarding the hospitals and doctors we have looked up to. I would like to thank Getwellgo, with the deepest gratitude and appreciation on behalf of my perfectly healed father.
---
More Hospitals
Contact Us Now!
Fill the form below to get in touch with our experts.