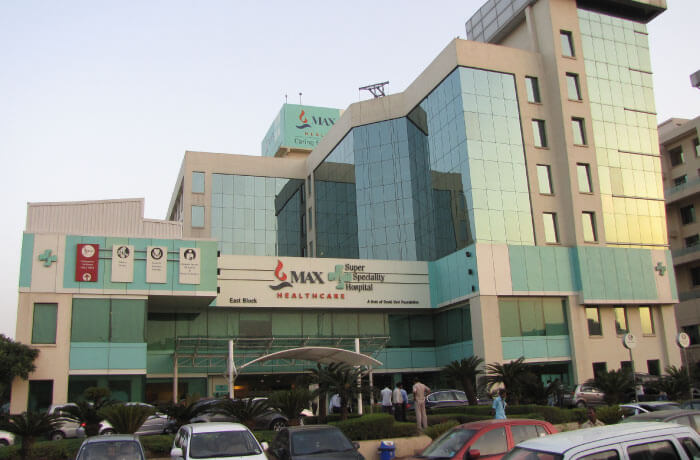 SUPER SPECIALITY
Max Hospital Pitampura, New Delhi, Delhi, 110034
Max Healthcare Institute is a hospital chain based in New Delhi, India with 14 hospitals across North India.The institute operates fourteen hospitals in Delhi, NCR and neighbouring Punjab and Uttarakhand region, providing health care services in more than 30 disciplines.
Waiting Period


Within a week

Price Range


Economical

Facilities


Executive
BOOK AN APPOINTMENT
You will recieve:
Response Within 5 Hours
Doctor Recommendations
Treatment Plan & Cost
Medical Visa Help
Quick Appointment
About Max Hospital
Max Healthcare Institute is a hospital chain headquartered in New Delhi, India with fourteen hospitals covering North India. The institute operates these hospitals in Delhi, NCR and neighbouring Punjab and Uttarakhand region, providing health care services for more than 30 disciplines.Max Multi Speciality Centre, Pitampura provides healthcare services for major medical disciplines including Neurosciences, Orthopaedics, Urology, ENT, Physiotherapy, Dentistry, Aesthetics and Reconstructive Surgery, Obstetrics and Gynaecology, Endoscopy, pediatrics, cancer care, kidney transplant, bone marrow transplant, maternity services, diagnostic services, pediatric ophthalmology, neurophthalmology, internal medicine, general surgery, urology, nephrology, gastroenterology, mental health and behavioral sciences, rehabilitative services, and pulmonology. It is one of the well established hospitals in North Delhi and provides minimal access surgery for Gall Bladder, Hernia Repair, Pancreatic Cysts , Appendicectomy. Minimally Invasive Gynaecology Surgery and advance treatment for Gastro, Opthal and Dental Deptt.
The team of experts at Max Multi Speciality Centre has treated patients for more than 25 specialities giving it a value of highly trusted and reputed hospital in Delhi. This Medical Institute is a joint venture between Max India and Life Healthcare, South Africa. Max India Limited is a Public Limited company listed in Bombay Stock Exchange as well as National Stock Exchange of India with more than 37,000 shareholders. The hospital in Saket is JCI accredited and also several of it's hospitals are NABH Accredited.
Legacy of Max Multi Speciality Hospital
Max India Limited was established in 1985. The first Max healthcare centre was opened as Max Multi Speciality Centre in Panchsheel Park, New Delhi having OPD facilities and day care surgeries in 2000.In 2002, Max Hospital was established. Dedicated to mother and child care, Max Hospital, Noida was established in 2002 with services including non-invasive cardiology, orthopedics, ENT, ophthalmology, nephrology etc. Max Heart and Vascular Institute was established in 2004 having advanced cardiac life support as well as air evacuation service in Saket.Max Hospital in Patparganj was established in 2005. In the same year, Max Eye and Dental Care centre was opened at Panchsheel Park, New Delhi. Max Super Specialty Hospital, Saket was established in 2006 and Max Hospital in Gurgaon was opened in 2007.
In July 2014, the company made a joint venture with LIFE Healthcare Group, the second largest private hospital operator in South Africa, with it's two groups each holding a 46.4 percent equity stake in the new venture to be known from a name, Max India.By July 2016, the company had established a network of fourteen hospitals with treatments for around 29 specialties.In September 2018, KKR Radiant bought a 49.7 percent stake in Max Healthcare.
Vision of Max Multi Speciality Hospital
Our passion well reflects in the fact that we set the industry standards and when it comes to cure, care and comfort. To deliver a International Class healthcare with total service focus, by creating an institution committed to the highest standards of medical and service excellence, patient care, scientific knowledge as well as medical education.
We are one of the India's leading providers of comprehensive, seamless and integrated world class healthcare services. With a chain of hospitals, we offer treatment for around 29 specialties. We have 2300+ leading and experienced doctors having international level expertise who are committed for providing highest standards of medical excellence at a fraction of international costs. Our NABH and ISO accredited hospitals offer best-in-class services to the patients. We understand that seeking medical treatment outside your home can be physically as well as mentally difficult. So at Max, we are eager to get you home soon!
Ownership of Max Multi Speciality Hospital
Mr. Rahul Khosla is the chairman of Max Healthcare. A few words from him, At Max Super Speciality Hospitals, it is our level of service and eye for detailing everything that we are doing, that genuinely sets us apart and makes us the care provider of choice for millions of patients. Quality, medical and service excellence and detailing are the pillars of this institution.
10% OFF - All Treatments at Max Hospital, Book Now!!
Best treatments in Max Hospital
Doctors in Max Hospital
Photos of Max Hospital
Reviews
Roonie Kaphiksha
Visited in November 2016
From Zambia
I contacted GetWellGo for my spine condition. I had no prior complete idea of my ailment and didn't know how to proceed further. GetWellGo's medical team helped me to decide the right treatment and also guided me to the right hospital. They also helped me get the appointments with the best doctors for my surgery.
---
Anatoly Oleinikov
Visited in March 2018
From Russia
I was having a very hard time in getting the right treatment for my second child in our own country, so our doctors and relatives suggested us to try the treatment in India. This is where we came across Getwellgo. They not only helped us in the entire treatment process but also took care of my family in a strange country.
---
Murid H Ahmed
Visited in January 2018
From Afganistan
When I decided I'm getting my cardiac surgery done, I wanted to know the cost estimates and most economical treatment available. Getwellgo's cardiologist answered all my questions patiently and helped me decide the hospital as well as post surgery followups. I am very happy that getwellgo was there for me.
---
Salesh Raman
Visited in December 2018
From Fiji
I wanted to have a second opinion before I made a final decision for my weightloss surgery. There were a lot of confusion regarding the surgery and the complications that may arise. Getwellgo medical team had an expert on board who helped me understand thoroughly about the treatments types available and pointed me in just the right direction.
---
More Hospitals
Contact Us Now!
Fill the form below to get in touch with our experts.