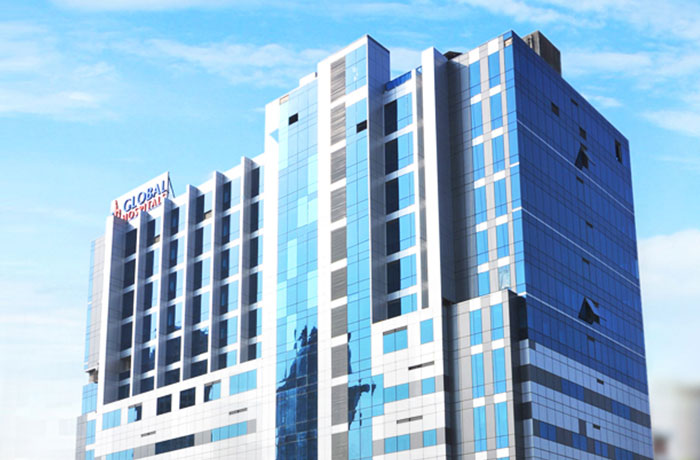 SUPER SPECIALITY
Global Hospital Parel, Mumbai, Maharashtra, 400012
Established in 1998, Global Hospitals located in Mumbai is a multi speciality hospital offering a wide spectrum of advanced medical treatments to its patients. Global Hospitals offers state-of-the-art infrastructure and is technologically up to date. It has a great team of qualified doctors available around the clock and emergency services. Staff members make sure patients are given the best of medical care.
Waiting Period


Within a week

Price Range


Economical

Facilities


Executive
BOOK AN APPOINTMENT
You will recieve:
Response Within 5 Hours
Doctor Recommendations
Treatment Plan & Cost
Medical Visa Help
Quick Appointment
About Global Hospital
Global Hospitals is associate Indian chain of multi-specialty tertiary care hospital headquartered at Hyderabad, India. Founded by Dr. K. Ravindranath in 1999, the hospital is renowned for its experience in multi-organ transplants as well as kidneys, liver, heart and lungs. Global Hospitals presently operates 5 specialised locations in Hyderabad, Chennai, Bangalore, and Mumbai. The Hospital Group currently has a 2000-bed capacity. The Global Hospitals group presently caters to over 300,000 outpatients per annum, besides 50,000 in-patients and performs over 18,000 surgeries every year. Established in 1998, global Hospitals located in Mumbai is a multi speciality hospital offering a large spectrum of advanced medical treatments to its patients. Global Hospitals offers progressive infrastructure and is technologically up thus far. It has a great team of qualified doctors accessible round the clock and emergency services. Staff members ensure patients area unit given the simplest of medical aid.
Global Hospitals is currently Gleneagles world Hospitals, a part of parkway Pantai. Global Hospitals at Lower Parel, Mumbai is latest addition to the geographical footprint of Gleneagles world Hospitals india. The 450-bed facility comprises of 17 stories, housing state-of-the-art infrastructure and advanced medical care facilities. The hospital offers end-to-end clinical, surgical and diagnostic services. It is equipped with a team of eminent medical professionals assisted by qualified nurses and medical staff.Strengthening lives through compassionate care, innovative therapies and relentless efforts, it reflects within the DNA of our passionate team of doctors and dedicated clinical staff. The Hospital offers the advanced endoscopic procedures, Hepatobiliary and Liver Surgeries, Surgical and Medical Gastroenterology, Bariatric Surgery and Robotic surgery. The hospital is a center of excellence for orthopedics, Joint Replacement, Knee Replacement, Hip Replacement surgery. The Global Hospitals group was founded by Dr. K. Ravindranath, who is one among India's most sought after surgeons. He is a fellow of the Royal College of Surgeons from Glasgow and Edinburgh and an alumna of Sri Venkateswara Medical college, Tirupati, India. Global Hospitals claims to own many firsts to its credit together with
- First Pediatric Auxiliary Liver Transplant in Asia.
- First Hospital in South Asia to perform medicine Auxiliary Liver Transplant.
- First Hospital in South Asia to perform the Nucleus Replacement in Spine.
- First flourishing Split & Auxiliary Liver Transplant Surgery in india.
- First successful Combined Heart Transplant Surgery.
- First successful Single Lung Transplant in India.
- First successful minimal Access respiratory organ Transplant in india.
- First Swap Liver Transplant for adults in india.
Global Hospitals Mumbai is one among the highest liver hospitals housing skilled liver transplant surgeons in india. One of the most useful organs in our body – Liver – it is also one of the most important ones. Any malfunction or disorder can result in numerous processes being affected. The Liver is also a very hardy and can continue to operate despite certain disorders. However, by the time clinical intervention is not any longer useful and the liver isn't within the state to continue to support the conventional functioning of the body, patients are left with only one option, and that is liver transplantation. Global Hospitals Mumbai offers end-to-end liver care and liver transplantation choices and it's one among the best Liver Transplant centres in india having earned the standing of excellence in liver care and liver transplantation.
The Mumbai liver transplantation centre has a division focusing solely on liver and exocrine gland care. This dedicated division boasts a number of the simplest Liver Specialists (Hepatologists), Transplant Surgeons, Transplant Anesthesiologists Transplant Nurses, Physiotherapist and Transplant Coordinators in the country. Regarded as the world's most comprehensive and multidisciplinary disease-management centre, the liver transplant centre at Mumbai specializes in advanced surgical and medical cure of diseases of the liver and pancreas.
The Advanced Facilities Available at Global Hospitals
- Intensive Care Units Multiple intensive care units for specific requirements - Surgical ICU, Medical intensive care unit, Liver ICU, Renal ICU, Cardiac ICU, Post-Transplant and others.
- CT SCAN - 64 Slices High end CT scanner that gives highest level of accuracy for diagnosing illness conditions of the heart, lung and brain.
- X-RAY- Scanogram A radiographic technique used for showing true dimensions by moving a narrow orthogonal beam of x-rays on the length of the structure being measured, for instance, the lower extremities.
- Advanced Operation Theatres 12 modular Operation theatres with state of the art specialist equipment(s) required for performing easy, routine or complex surgeries of the heart, brain, kidney, liver, etc.
- 3 Tesla MRI Machine Magnetic resonance imaging (MRI) is a test that uses a magnetic field and pulses of radio wave energy to create pictures of organs and structures inside the body. In several cases, mri offers more in-depth data about structures within the body than can be seen with an X-ray, ultrasound, or computed tomography (CT) scan.
Best treatments in Global Hospital
Doctors in Global Hospital
Photos of Global Hospital
Reviews
Donald Gyamfi
Visited in July 2018
From Ghana
While doing online research, I came across Getwellgo. Going through the reviews online, I immediately contacted them and go complete information regarding the hospitals and doctors we have looked up to. I would like to thank Getwellgo, with the deepest gratitude and appreciation on behalf of my perfectly healed father.
---
Murid H Ahmed
Visited in January 2018
From Afganistan
When I decided I'm getting my cardiac surgery done, I wanted to know the cost estimates and most economical treatment available. Getwellgo's cardiologist answered all my questions patiently and helped me decide the hospital as well as post surgery followups. I am very happy that getwellgo was there for me.
---
Salesh Raman
Visited in December 2018
From Fiji
I wanted to have a second opinion before I made a final decision for my weightloss surgery. There were a lot of confusion regarding the surgery and the complications that may arise. Getwellgo medical team had an expert on board who helped me understand thoroughly about the treatments types available and pointed me in just the right direction.
---
Anatoly Oleinikov
Visited in March 2018
From Russia
I was having a very hard time in getting the right treatment for my second child in our own country, so our doctors and relatives suggested us to try the treatment in India. This is where we came across Getwellgo. They not only helped us in the entire treatment process but also took care of my family in a strange country.
---
More Hospitals
Contact Us Now!
Fill the form below to get in touch with our experts.