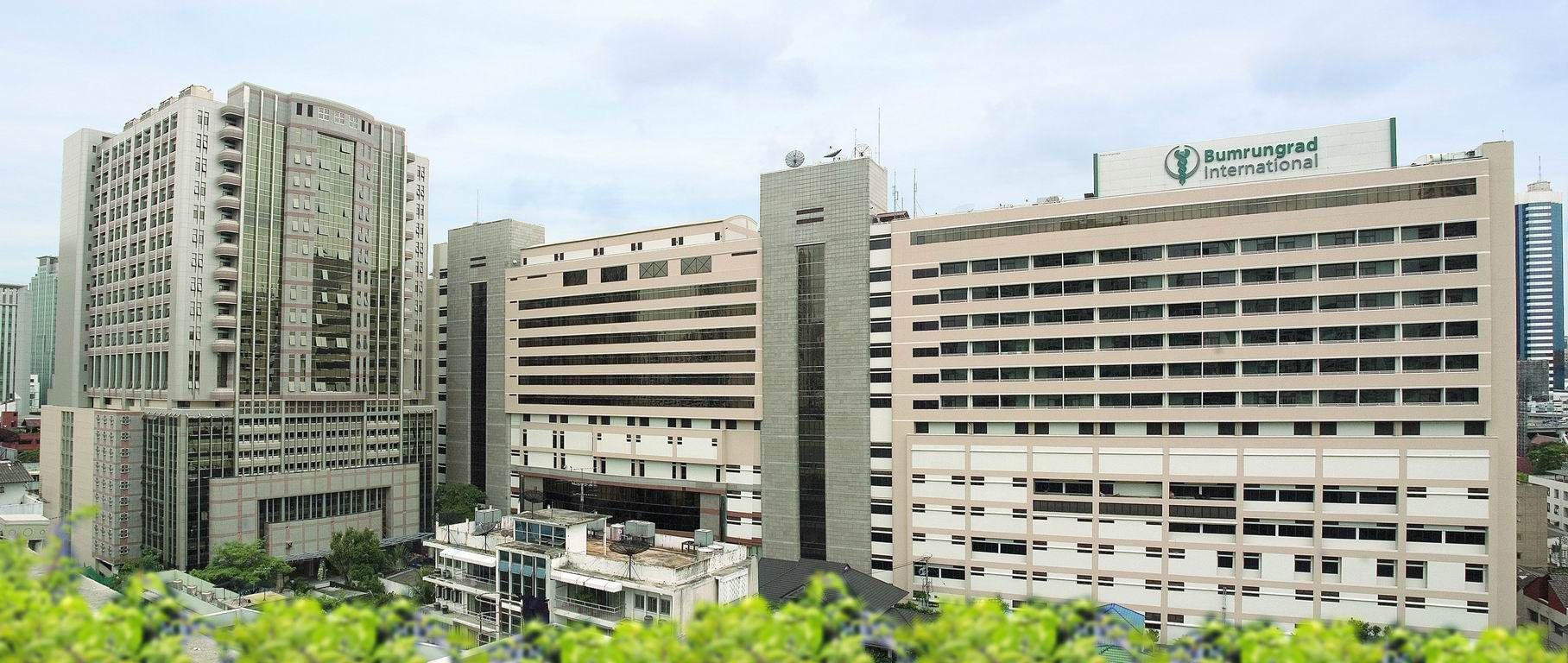 SUPER SPECIALITY
Bumrungrad International Hospital Bangkok, Thailand
Bumrungrad International Hospital is a private hospital founded in 1980 in Bangkok, Thailand. It's name means 'to care for the populace' or 'to nurture the people'. This hospital was established on 17 September 1980 and now has become Southeast Asia's largest private hospital. As a regional referral centre for speciality medicine, it is one of the world's popular medical tourism destinations.
Waiting Period


Within a week

Price Range


Economical

Facilities


Executive
BOOK AN APPOINTMENT
You will recieve:
Response Within 5 Hours
Doctor Recommendations
Treatment Plan & Cost
Medical Visa Help
Quick Appointment
About Bumrungrad International Hospital
Founded in 1980, Bumrungrad International Hospital has been a global pioneer in providing world-class healthcare services and international patient support for nearly four decades. Located in the heart of Bangkok, Thailand, a cosmopolitan megacity nicknamed "The City of Angels" and renowned for its culture of exceptional hospitality and delicious cuisine. Bumrungrad is an internationally accredited, multi-specialty hospital listed on the Stock Exchange of Thailand since 1989. One of the largest private hospitals in Southeast Asia, Bumrungrad International Hospital cares for over 1.1 million patients from more than 190 countries annually.
Quality, Safety with Measurable Results
Bumrungrad International Hospital is the first hospital in Asia accredited by the US-based Joint Commission International (JCI), achieving accreditation five consecutive times since 2002. In 2017, Bumrungrad also became the first hospital in Asia to be DNV GL MIR Certified for Infection Risk, and became the first non-US hospital to earn Global Healthcare Accreditation with Excellence designation from GHA, which signifies the highest international quality and safety standards for overseas patients traveling to Bumrungrad International Hospital for treatment and care. Through our consistent clinical standards and many international accreditations, Bumrungrad has demonstrated some of the highest clinical success rates and lowest infection rates in the region and world.
Collaboration of Expertise
Bumrungrad International Hospital has set up multidisciplinary teams of experienced medical doctors, nurses, pharmacists, physical therapists, nutritionists, medical technologists and other professional staff to integrate quality treatment, making it a one-stop shop healthcare destination for all types of patients and complex care needs. Bumrungrad International Hospital employs over 1,300 medical doctors and over 4,800 support professionals. A majority of the doctors have earned international board certifications from the United States, United Kingdom, Australia, Japan and other advanced economies well known for high medical and quality standards. The seamless collaboration of expertise between our medical teams allows for better treatments and outcomes for patients across more than 70 medical subspecialties.
Innovation and Technology
Bumrungrad International Hospital is a leader in medical technology and innovative patient services. Among the most recent advancements, Bumrungrad has expanded the Precision Medicine department which offers personalized cancer treatments and the latest breakthrough therapies mostly from the United States and Europe. Another cutting-edge technology we use is CardioInsight, a completely non-invasive diagnostics technology for diagnosing heart arrhythmias and the only active center in the Asia Pacific. In order to remain a leader in cutting-edge technology, Bumrungrad was the first IBM Watson for Oncology site in the world. IBM Watson, a machine-learning AI, assists physicians by analyzing patient data against thousands of historical cases, hundreds of medical journals and textbooks, the latest clinical trials, and more than 12 million pages of text. This innovation in technology allows doctors and specialists to compare their findings against big data and provide the most accurate treatments possible. What began as a surgical treatment for prostate cancer has now become the Bumrungrad Robotic Surgery Center. It utilizes state-of-the-art technologies for robotic-assisted surgery such as MAKOplasty©, Mazor X and the da Vinci System to allow for more consistency, accuracy and faster recovery times with less invasiveness for joint, spine and cancer patients.
10% OFF - All Treatments at Bumrungrad Hospital, Book Now!!
Best treatments in Bumrungrad International Hospital
Doctors in Bumrungrad International Hospital
Photos of Bumrungrad International Hospital
Reviews
68 Ratings and 55 Reviews
Customers who visited via getwellgo.com
Roonie Kaphiksha
Visited in November 2016
From Zambia
I contacted GetWellGo for my spine condition. I had no prior complete idea of my ailment and didn't know how to proceed further. GetWellGo's medical team helped me to decide the right treatment and also guided me to the right hospital. They also helped me get the appointments with the best doctors for my surgery.
---
Anatoly Oleinikov
Visited in March 2018
From Russia
I was having a very hard time in getting the right treatment for my second child in our own country, so our doctors and relatives suggested us to try the treatment in India. This is where we came across Getwellgo. They not only helped us in the entire treatment process but also took care of my family in a strange country.
---
Salesh Raman
Visited in December 2018
From Fiji
I wanted to have a second opinion before I made a final decision for my weightloss surgery. There were a lot of confusion regarding the surgery and the complications that may arise. Getwellgo medical team had an expert on board who helped me understand thoroughly about the treatments types available and pointed me in just the right direction.
---
Donald Gyamfi
Visited in July 2018
From Ghana
While doing online research, I came across Getwellgo. Going through the reviews online, I immediately contacted them and go complete information regarding the hospitals and doctors we have looked up to. I would like to thank Getwellgo, with the deepest gratitude and appreciation on behalf of my perfectly healed father.
---
More Hospitals
Contact Us Now!
Fill the form below to get in touch with our experts.